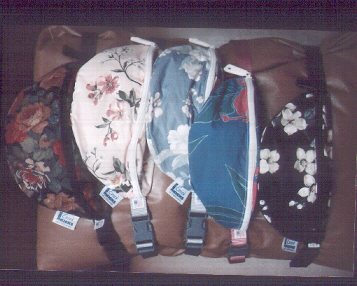 black, turquoise, blue, peach, and multi navy
Evie's SideKick's
Our SideKicks are made in soft washable cotton to lay smooth to the body.
Completely lined with parachute snaps to keep them together.
Slide tap on belt to keep the ends from flapping.
Clips are at the purse side so all the pieces are in the front.
Made to be worn with purse at your waist in the front.
Wear with a seat belt in comfort.
Maybe worn under a jacket with complete comfort.
Stylish and comfortable to leave your hands free for the important things - holding hands.
Holds wallet, keys, lipstick with ease. (I've learned that I don't need much when I'm in the store so, I leave the other stuff in a larger purse in the car)
My chiropractor wouldn't handle the product - says purses help his business. I said, "I know, I'm tired of being a pack horse"
Ever stop and think where they sell purses? In the luggage - we lug things around. No LUGGING for my family and friends.
We're ALL wearing SIDEKICKS!
Join us!
Order today - at this price they won't last long.
Email information to include phone # and best time to call.
Evie's SideKicks come in : Navy, peach, blue, turquoise, black
Blow out Price $4.95 each + s/h of $2.50 each
Mail : Evie's SideKicks, Evelyn Roth, P.O. Box 278, Buellton, CA 93427