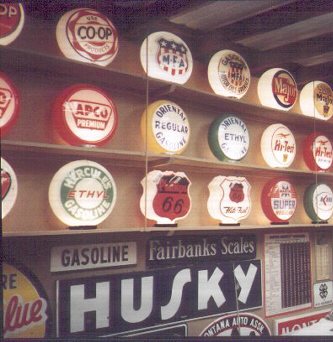 Your right I did use this on Reed's 20th Gas Bash!
Loved the picture. Hope you do too.
SiteMap for Jack's Gasup Museum
Gas Up Museum (Jack's Place)
The globes you see here are just a few of what the United States has seen on the top of the gas pumps of yesteryear. When I think of gas pumps now the names that come to mind are, Shell, Arco, 76, then I start thinking of AM/PM and all the mini marts. No more of the wonderful enameled signs, now they are painted on metal, or cardboard and plastic. (We can't have glass as it will break and they will spill the gas, or get hurt - Big Brother and Suing) Oh, well.. Progress is wonderful. Happy Gas-Up to you.......