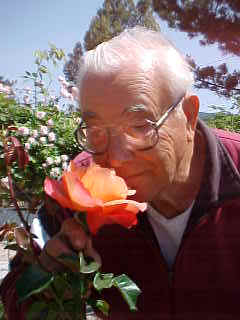 Ed Ando guest gardening columnist
Ed's Philosophy is "Stop and Smell the Roses"
A gardening column penned by Buellton resident Ed Ando begins today on the web site.
With spring just around the corner, Ando begins the gardening year with the last of the winter chores, and offers suggestions for getting a head start on summer's garden bounty.
Ed and wife Shirley moved to the Valley about 40 years ago and raised their family here.
After retiring from a job at Lake Cachuma, Ed Ando sold his produce at area farmers markets for a while before starting his own Farmers Market in Buellton, which operated from 1993 to 1997.
Gardening with Ed first article. [article 2] [article 3] [article 4] [article 5] [article 6] [Article 7] [article 8] [article 9] [last article]
[ Photos of Ed's Garden] [June Photos] Visiting Ed 8/5/00
Planting a hanging flower bag (Vibeke's)
(Ed the bounty basket is on photo 19 - 20. Ev)