A bucket of Danish Cookies - little morsels of wonderful taste.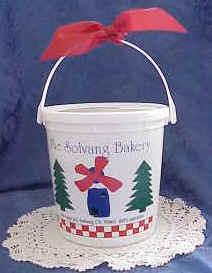 The tradition started years ago. Most people who came to Solvang found the cookies were a great gift for family and friends. They always fit, were the right color, and everyone loves cookies. We now offer them to you when you can't make it to Solvang to pick them up.
Order for that most wonderful deserving person - YOU
Order for the person that you wish to impress.
Easy ~ We'll ship them to the address you send us.
We'll charge your card.
We'll tell them they were sent by you.
To Order fill out the email with information and we'll confirm it with you.
By email or by phone call back to you. A bucket of cookies + shipping and handling.